AMALGAM ART BOOK
Here is my first art book entitled Two painters … A series of paintings created in tandem, AMALGAM. In collaboration with my colleague the painter Patrice Dufour, we present more than forty paintings from the Amalgam series cosigned Hughes & Dufour. Dedicated to the approach and the AMALGAM series in French, there are only 110 copies of the first edition of this book in circulation. It will be launched at the opening of the AMALGAM series at the Artothèque de Montréal on March 15, 2019.
THE AMALGAM COLLECTION BOX
Here is THE famous limited edition AMALGAM collection box with only 50 copies.
Each box is numbered from 1 to 50. Inside, you will discover 3 different digigraphies (giclées) on art paper of exceptional quality, authenticated with the signature seal of our tandem artists Hughes & Dufour and two $50 gifts certificate and a copy of the first edition of my first AMALGAM art book.

MY PUBLICATIONS
In 2006 I took charge of the continuity of the bulletin Le Communiqu'Art, after 10 years of existence. My goal, with the help of many people, was to relaunch this newsletter and at the same time, provide a centralized platform for news, activities and inspirational columns available to subscribers, as well as publications tools to announce in a targeted way, the activities offered by organizations and municipalities.
The objective was to emit information related to the visual arts field in Quebec, and sometimes even outside. The Communiqu'Art set consisted of a Web portal, a monthly electronic newsletter "L'Express'Art" and 21 printed publications were distributed to several thousand subscribers across the province, from 2006 to 2010. I have never received financial aid or any government assistance despite my many attempts and efforts. I had to stop the activities of this wonderful project out of the ordinary, for lack of resources and also for financial and health reasons. The last three issues of the 4th year of the adventure have never been realized.
Some copies of the publications were deposited in the National Archives of Quebec between 2006 and 2009.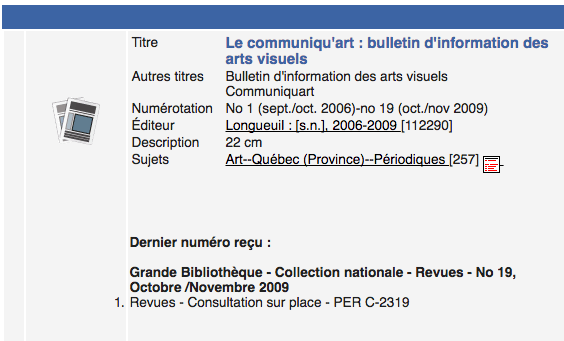 NOTICE TO COLLECTORS • I still have some copies of the complete collection of 22 issues, only $ 150 for the complete series.